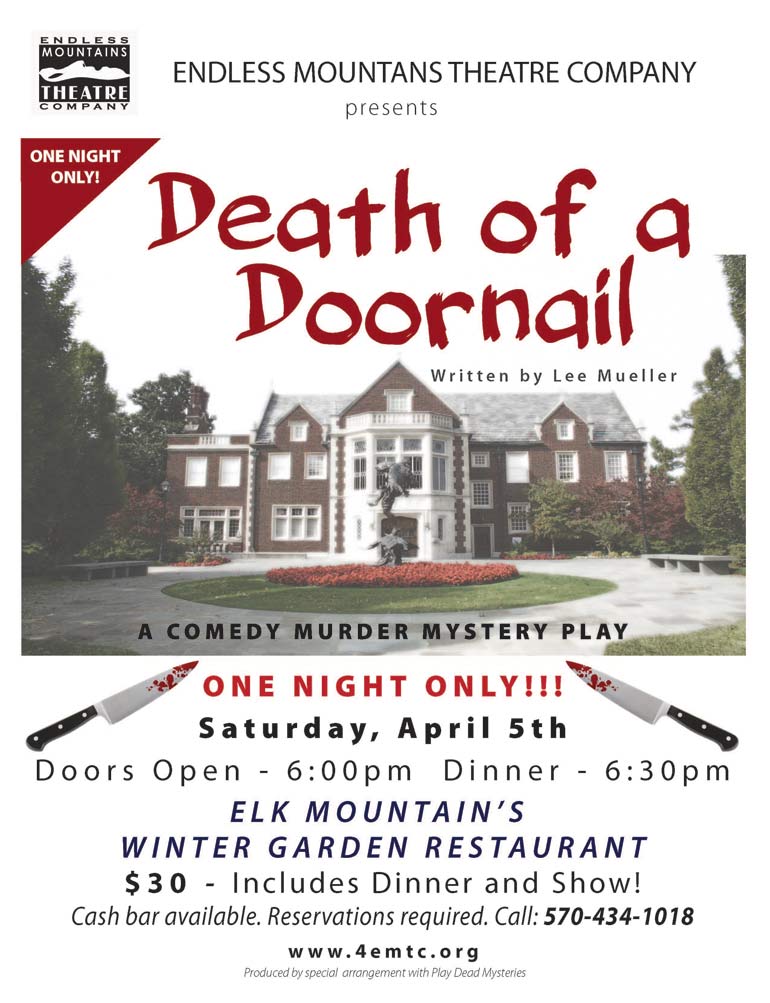 The comedy murder mystery "Death of a Doornail" returns for one night only at Elk Mountain's Winter Garden Restaurant on Saturday, April 5th.
Written by Lee Mueller, the story centers on eccentric millionaire Albert Doornale, who has invited several guests to his estate. Among them: his ex-wife, Abigail; his fiancée, Candy Bambay; and his childhood friend from the lower East Side, Salvator Carbone. They are ushered in by the grumpy butler and cutlery-carrying cook. But Albert is nowhere to be found, and no one, including Albert's spoiled daughter and nerdy nephew, know where he is. When blood is found in an upstairs bathroom, the plot thickens. Inspector Bukowski arrives on the scene, but the murder investigation hinges on finding a body, and that may take a while.
Sandra Raub is directing the cast, which features Caleb Park, Kim Fisher, Kevin Gates, Bob DeLuca, Art Donato, Katherine Curry and Mark Creamer.
Doors open at six with dinner at 6:30. The menu is scheduled to include chicken strips with penne pasta in butter and garlic, roast beef, broccoli penne alfredo, salad, potato, vegetable, soft drink, coffee, tea and dessert. A cash bar will be available as well.
Reservations are required and can be made by calling 570-434-1018.